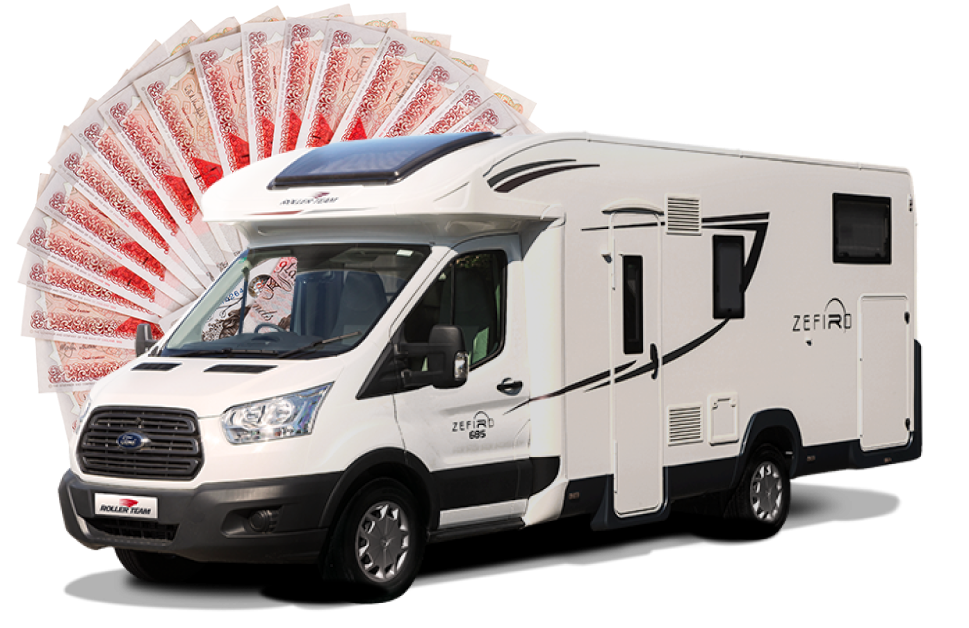 Simple, hassle-free valuations

Sell Your Motorhome
Cash Waiting

Sell to us

Sell your used motorhome for cash today with our quick three-step selling process.
A simple process

Quick and easy
Selling your motorhome for cash with Go European is quick, easy and hassle-free. Don't waste time showing people around for poor offers and sales hassle, instead sell to us.
You could have the cash in your pocket in a matter of days!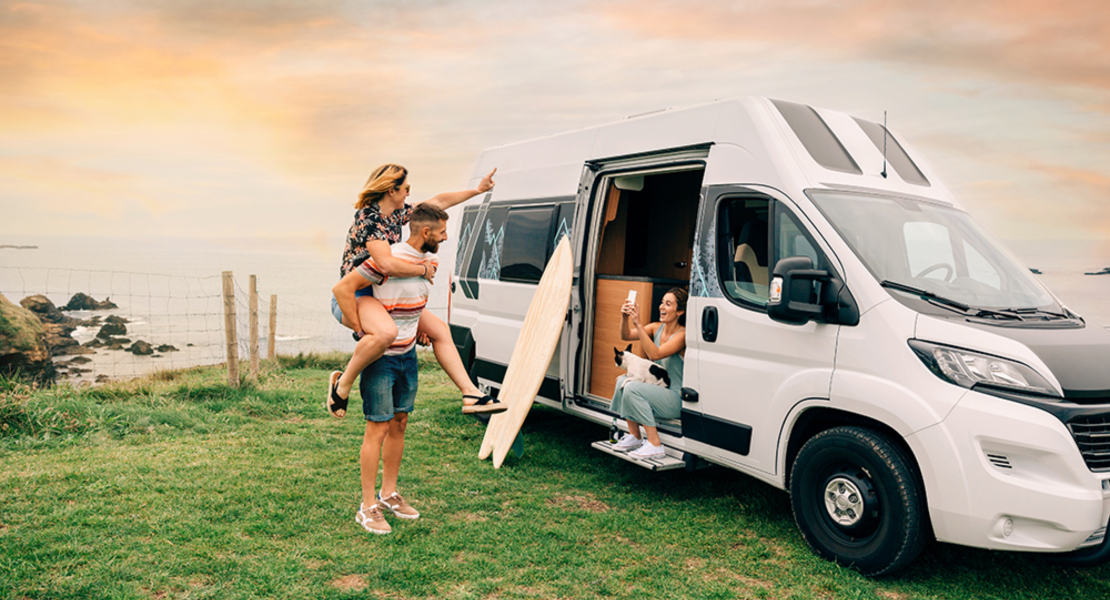 Sell your motorhome in

3 easy steps
Step One

Complete our quick and easy on site evaluation form, with as much information as possible. If you have any photos, these can also be supplied.

Step Two

We will then contact you with a competitive offer for your motorhome. If you accept the offer, we will come and inspect your motorhome.

Step Three

After the inspection, we will finalise everything with you. We will pickup your motorhome and transfer the money to you!
Sell your motorhome
Reviews

What our customers think
We bought our Carthago from this dealership and sales staff were excellent. Claire always got back to me really quickly if I had any questions and Wayne couldn't have been more helpful. We wanted to add self-levelling jacks, so also booked this in with Go European. Jordan W was absolutely brilliant re contact and Taylor and Jordan W both excelled when handing the vehicle back over. Taylor was very patient when explaining the new system which I really appreciated. Sales will always be good at the front end but it's also the service after that's really important to us so TOP MARKS Go European.
We recently dealt with Go European when we exchanged our Motorhome for a Burstner. Initially we dealt with salesman Dan. On change over day we dealt with Dan and technician Wayne. We had minor issues once we got the motorhome so had to contact aftersales team and dealt with Jordan and David. Throughout our dealings with each member of staff, nothing was ever too much trouble and all issues were sorted out to our satisfaction in a prompt and timely fashion. Would not hesitate to recommend Go European and their fantastic staff.
We bought a Carthago compactline Motorhome from Go European, Cannock, Staffordshire in 2020. We are very happy with the Motorhome and the customer service. During the two year warranty we had cause to contact the company for a few minor snagging issues. Our point of contact was Jordan Evans who provided excellent after sales service. He always replied promptly to our queries via e mail and there was no delay in putting right the problems. We would recommend this company.
Really helpful company through from Sales to after sales.. Jordan Evans was incredibly helpful in sorting out a few warranty items.. went above and beyond... would recommend Go European!
We purchased our Roller Team two years ago, everything went very smoothly with the sales process and the after sales service since then has been excellent, in particular I would mention the great after sales service we have received from Jordan Evans who has always been keen to assist us with any issues and has kept us fully informed of progress on any service/warranty work carried out.
Go European took over our warranty and after sale work on a new Carthago after our relationship with the selling dealer fell apart. We have been going to them for over 3 years now and have nothing but good things to say about the standard of service we get. The after sales team are really helpful and always approachable when you get problems. Jordan has been looking after us all this time .... always friendly and professional, and always responds really quickly when we get in touch. Just as it should be and highly recommended.
Dealing with Go European has been a very pleasurable experience. Have just collected our new to us Carthago and nothing was too much trouble. Dan and the team there are extremely knowledgeable and the whole atmosphere of the dealership is informal and welcoming. Large enough to have a good choice but small enough for really personal service. We have used larger motorhome dealers in the past and have always craved better service and are really pleased that we have found Go European. Update, 27th September 2022. We are still delighted with our motorhome. We did have cause to contact Go European during our holiday and when we got home due to an error of judgement on our part when manoeuvring on a French Aire where we damaged our battery box. Jordan Evans from the service team has been extremely helpful in getting this matter sorted for us and has always contacted us when promised. We still have real confidence in Go European moving forward, unlike other experiences we have had!
Both management and technical staff are always helpful, even when the problem is with me not knowing how to use the Camper
Dennis Llewelltn
20/09/2022
Called today to pick up our new MH Hand of by Wayne one of the technicians was superb and extremely friendly. Absolutely no rushing. Brilliant. Dave the owner was in today for me to pay the balance. A pleasure to deal with. His son Lewis runs the service department and he rang to make sure all went ok with the technical side of the MH hand over. First class service with a great px price and a few things done for me. One very happy customer. Thank you to all at GoEuropean. Update. Rear camera failed. Took MH in about 2 weeks ago and they ordered a complete new system to make sure when I took it Wednesday last week they could fix the problem. Picked it up today. All done perfectly. Such good service and more than anything very polite. Can't wait for the new van.
Christine Walsh
06/09/2022
Good range of motor homes available and free to look round them at your leisure.
Top Tips for Selling Your Motorhome

Helpful Articles View All
Need some help?

FREQUENTLY ASKED
QUESTIONS
Now is a great time to sell your motorhome. Motorhomes are in high demand from families looking for a way to explore the great outdoors. Here at Go European, we can provide you with a cash offer for your motorhome, and make the selling process as easy as possible.

Yes! Motorhomes represent a great investment that typically hold their value over time. Motorhomes usually feature well-crafted interiors, up-to-date amenities and reliable components, making them a great choice for campers who want to make their investment last. With the proper care and maintenance, your motorhome should stay in good condition for many years to come, offering you excellent value for your money.

You can sell your motorhome here at Go European. We buy motorhomes for cash, and can value your motorhome, providing you with an offer in a matter of days.
View All FAQs